Contact us/how to order
Bulk Orders
Please use the Cool Heads Publishing online store.
General Inquires
Cool Heads Publishing
books

coolheads.ca
Toll free telephone: 1-888-637-8228
Mailing address:
P.O. Box 197, Merville BC Canada V0R 2M0
Contact Form
You can also contact us using this form. Enter your info in this
form to send us an email.
NOTE:
We will NEVER use your email to send unsolicited email (SPAM) or to sell to
third parties.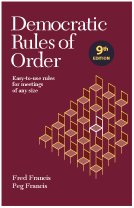 Order Information
Fred Francis, Peg Francis
Ninth edition, 2010
80pp, soft cover
ISBN 978-0-9699260-6-1
Cool Heads Publishing
Ebook $4.95 ( CDN and USD )
Softcover $8.95 ( CDN and USD )